Welcome to Aunt Johnnie's Beloved Hearts Memorial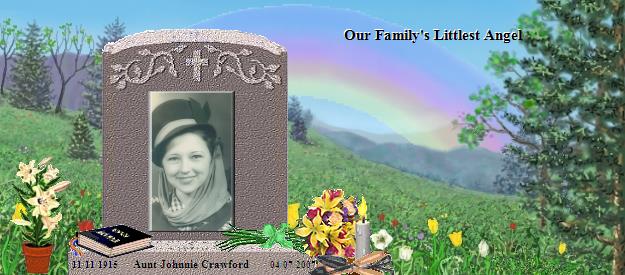 Memories of Aunt Johnnie
Our Families Litlest Angel
Little Darling echoes in my heart and brings a smile to my face, It brings back memories of another time and place. Dangling earrings, socks with high heals-that cackle of a laugh that gives you those special thrills. Best pancake maker in the world-deserving only the ribbon of blue. A little woman who could move mountains if she wanted to. Always willing to help and never seems to tire, Love of her family fuels her desire. She is the cornerstone of our family and with open arms she made a house a home. Then welcomed family back from where ever they may have roamed. For a woman small in stature with a will to conquer all things. Your love envelops our family just like Angel's wings.
---
Sign Guest Book
View Guest Book
---
Aunt Johnnie's survivor(s), Betty and Harry, would appreciate knowing you have visited their dearly departed's Memorial.
Click here to Email Betty and Harry a message, or to send an e-sympathy card click here.